Digital Radiography (DR) System
Retrofit Product
Click for more information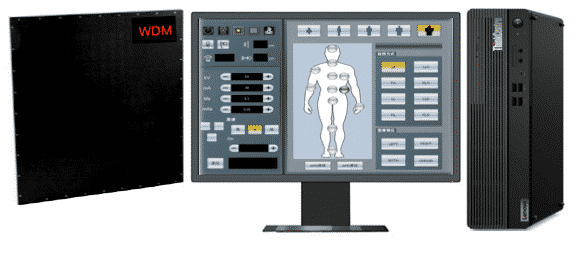 Imaging equipment can be upgraded from CR based X-Ray system or film to direct digital image by DR Retrofit System. The flat panel detector of the DR Retrofit system is suitable with almost all the X-Ray equipment. Within a couple of hours, CR based or conventional equipment can be converted into a digital radiography system with DR Retrofit system. The initial investment cost and time can be saved by using existing bucky table, X-Ray generator and bucky stand for upgrading work.
The DR Retrofit System consists the following Components:
The size of a wireless or wired flat panel detector is 43x43cm (17"X17") or 35x43cm (14"x17").
Intel Core 2 duo with 3.3G Hz, 1TB ROM, and 2GB RAM, display of 21 inches, and image acquisition hardware.
Acquisition condition setting, APR setting, image acquisition software, and mechanical position display.
PACs connectivity and DICOM 3.0.
Integration and Generator control connection.
Advantages of DR Retrofit
Interested in Partnership?
Would you like to join our awesome company? Fill in the forms, and our support team will get back to you ASAP!