Providing patient care in multiple locations and settings is becoming the norm in the healthcare industry. Clinicians, healthcare professionals and caregivers thus have an increasing need to share patient data to provide the best care possible.
Clinical Information Systems solve this dilemma. They've become critical in delivering data-driven patient care and patient safety, and improving clinicians' workflows. They're showing great potential in reducing medical errors, cutting costs, and improving the quality of care. But many challenges remain, especially around patient information including data collection, data extraction and meta analysis.
We'll examine what a Clinical Information System (CIS) is, its features and benefits, and what clinicians and healthcare professionals can expect from such a health care system in the future as new technology replaces legacy systems.
Hospital Information Systems: A Quick Overview
A Hospital Information System (HIS), is a computer system used by hospitals and health professionals to store all the administrative and clinical data pertinent to patient care.
A Clinical Information System (CIS) stores and manipulates patient data relevant to the clinical decision making process.
The CIS coordinates the planning and implementation of patient care, the collection and distribution of patient data and quality control. For example, a CIS can integrate with systems such as vital signs monitors and ventilators and display them in specific formats.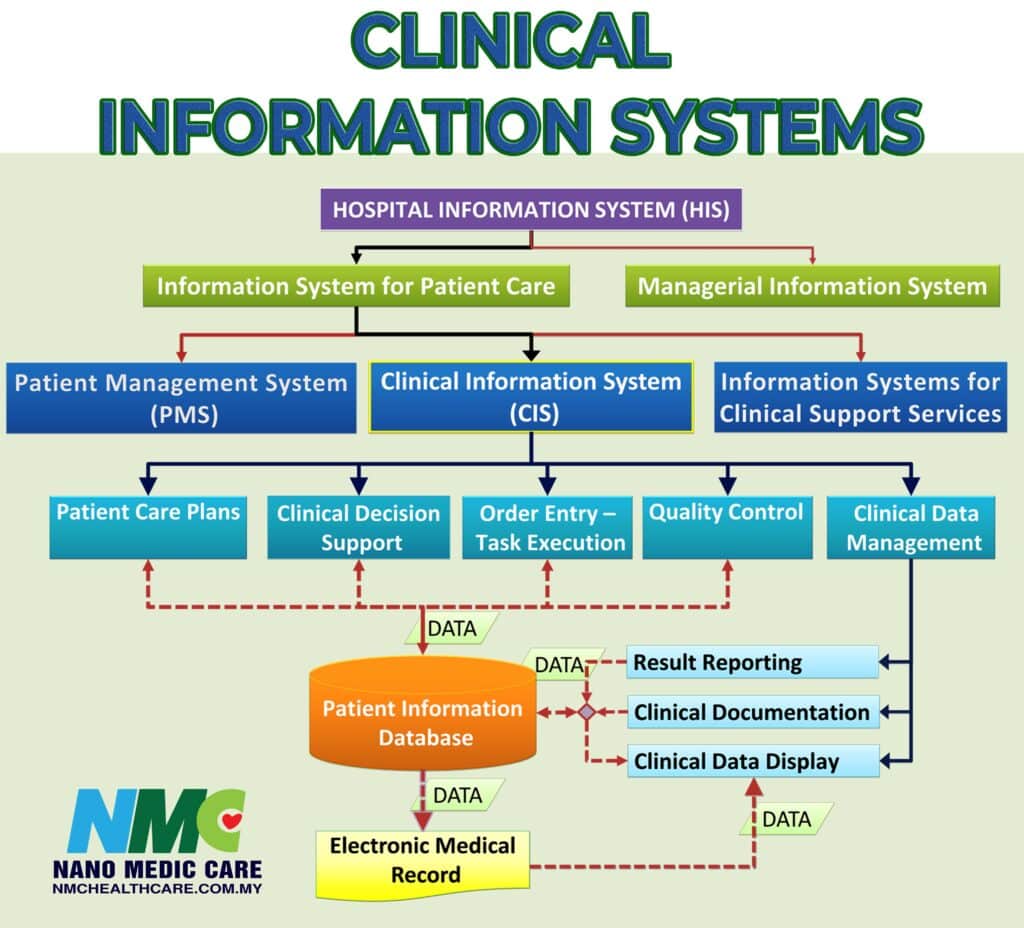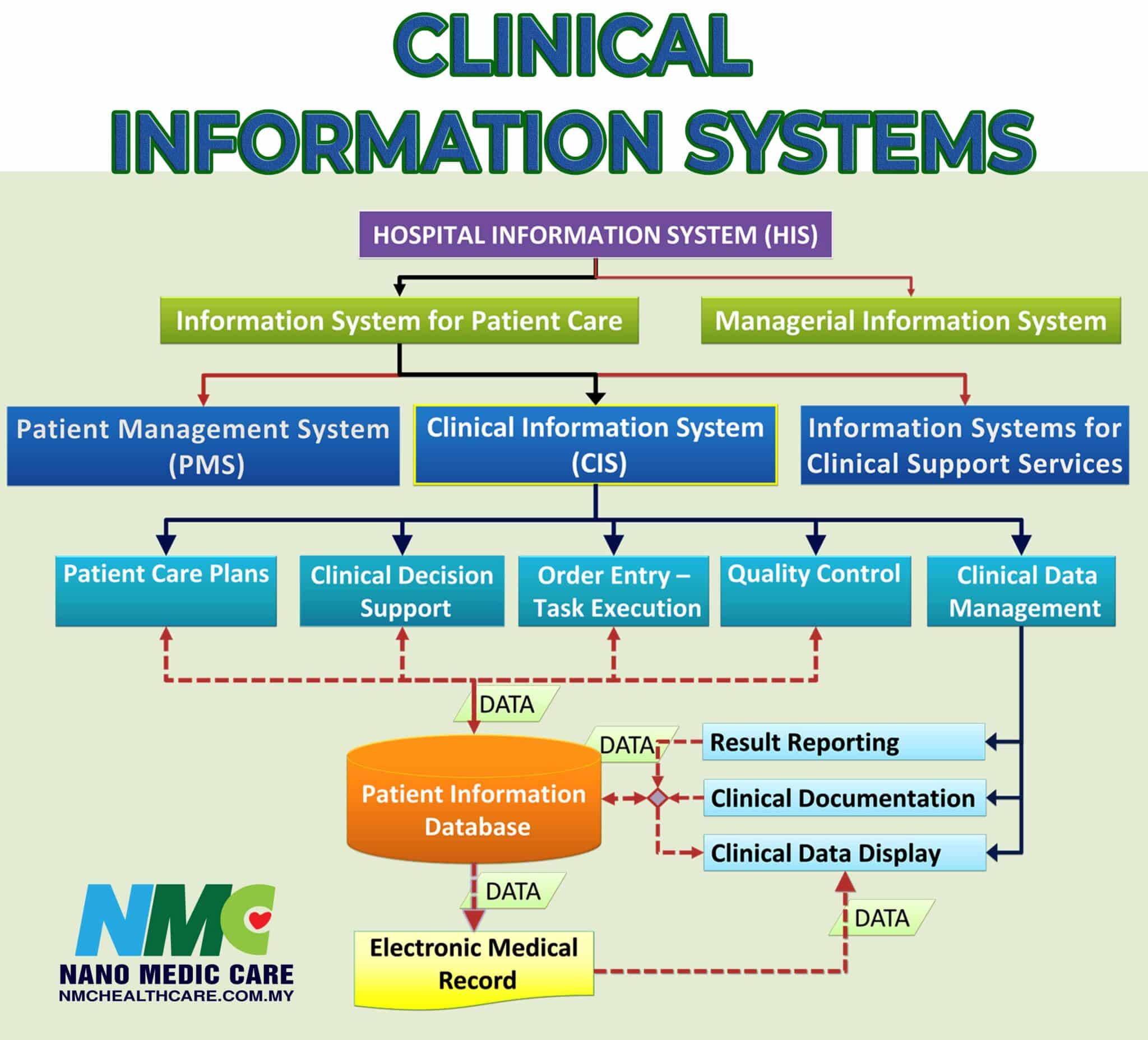 The CIS focuses on clinical delivery systems in contrast to the HIS which also includes business information systems.
The Hospital Information Systems include:
Business & Administration Systems, including General Ledger, Patient Billing and Payroll
Outpatient Clinical Information Systems, including the Ambulatory/OPD Electronic Medical Record (EMR)
Inpatient Clinical Information Systems, including the Inpatient Electronic Medical Record (EMR) and Computerized Provider Order Entry (CPOE) systems
Operational Information Systems, including the Laboratory Information System, Emergency Department Information System, Radiology Information System and Intensive Care Information System
The Clinical Information System is a decision support tool that facilitates care processes.
Next, we'll examine how Healthcare Information Systems generate Electronic Medical Records, which are a permanent record of all activities and treatments underlying patient care processes.
Electronic Medical Record: A Quick Overview
It's important to understand the differences between the Hospital Information System (including the Clinical Information System) and the Electronic Medical Record (EMR).
Electronic Medical Records are an electronic version of the paper charts which were found in clinicians' offices and hospitals. EMRs are a record of patient information that's accessible to clinicians and health professionals within the hospital or location where the patient data was collected. They're an improvement over paper patient records because they help care providers track patient data over time, suggest treatment options and improve care quality.
The HIS can collect data not previously collected by a paper-based healthcare system. It can present that data to clinicians as views or displays pertaining to the particular aspect of care being given.
The Hospital Information System can also create Electronic Medical Records by extracting data from the Patient Information Database. This means that images can be included in the Electronic Medical Record. The HIS also ensures that patient data is processed within regulatory standards.
The EMR is a means of recording patient data. The HIS facilitates data extraction and data mining in the clinical decision support process so that clinicians can make quicker decisions and expedite care processes.
The Electronic Health Record (EHR), as distinct from the Electronic Medical Record (EMR), includes additional patient data. The EMR is only accessible at the location the data was collected. However, the EHR includes data such as test results which can be shared with other health care organizations and health professionals to improve care processes.
Essential Features of a Clinical Information System
Health Level Seven (HL7) Standards
We've just seen how Electronic Health Records facilitate the transfer of patient information between healthcare providers and clinicians. Given the sensitive nature of patient data, it's essential that this data is transferred in a secure and compliant way.
Health Level Seven International (HL7) was founded as a not-for-profit, ANSI-accredited organization in 1987 with a mission to "provide standards that empower global health data interoperability." Based in the U.S. it has 26 international affiliates helping in the ongoing development of the standard.
HL7 is a widely recognized messaging format for sharing and retrieving electronic healthcare information. It sets the structure and data types required for seamless integration between healthcare systems.
HL7 sets trigger events for tasks and transactions, such as patient registration, orders, and results. As soon as an information system completes a task, it transmits an HL7 message to other information systems. HL7 defines nearly 90 types of messages.
Most manufacturers of clinical information systems have implemented the standard within their products.
Dicom Compliance
DICOM (Digital Imaging Communications in Medicine) regulates the transmission and storage of medical images. The standard was created in 1993 by the American College of Radiology (ACR) and the National Electrical Manufacturers Association (NEMA). Manufacturers and providers of Clinical Information Systems are required by law to implement DICOM for medical imaging.
Data Protection
Data security is a primary concern in Clinical Information Systems. The sensitive nature of clinical data makes CISs especially vulnerable to cyberattacks. The Personal Data Protection Commissioner ("PDPC") administers and enforces the Malaysian Personal Data Protection Act ("PDPA").
To keep patient information secure healthcare providers should:
Encrypt clinical data
Backup clinical data
Monitor clinical data usage
Use multifactor authentication (MFA)
Train staff
Assess vendor vulnerability
Distributed Ledger Technologies such as Blockchain also open up new possibilities for the healthcare industry and care providers. This includes storing clinical data in a single location, tracking patient data in real-time, and setting access permissions at a granular level.
Benefits of Clinical Information Systems

Few would deny the many benefits of digitalization to the healthcare industry.
These include:
Easy access to clinical data: Clinical Information Systems provide convenient access to patient records at all points of care. And because Clinical Information Systems are cloud-based, patient records are accessible anywhere. This enhances clinical decision support.
Information is properly organized: We've seen how the transmission of patient information between healthcare systems is standardized. But Clinical Information Systems also store patient information in an organized way, which makes it easier to find and read. This reduces the risk of clinical errors. An added benefit is better clinical research.
Improved drug interactions and patient safety: Clinical Information Systems improve drug interactions and reduce the risk of medication errors. This improves treatment options for patients.
Future trends in the healthcare industry
Technological advances such as Artificial Intelligence, Augmented Reality and Nanotechnology are shaping the future of the healthcare industry.
Clinicians, health professionals and care providers will, of course, continue to play a major role in the healthcare delivery system. The extent of their input will depend on their ability to address two significant sources of variation in clinical outcomes:
Skills and judgment
Rates of intervention
In the future, most hospitals will use computerized clinical information systems (CISs). This will remove the need for manual data entry and enhance clinical best practices.
Key takeaway
The healthcare industry is held back by legacy systems and healthcare systems made up of disparate silos of data. Hospitals are seeking new ways to store, extract and share clinical data within themselves and with other healthcare providers. Cloud-based Clinical Information Systems are showing a lot of promise in addressing these issues.